Whether it is shoes, bridesmaid dresses, your dress, a garter, mother of the bride dresses, the cute little dress for the flower girl or your wedding accessories - www.lightinthebox.com is the place to do it.
I can personally vouch for their excellent and speedy service, seeing that I bought my Vintage wedding shoes and some accessories from

LightintheBox

and only had to wait 5 working days for shipment. I also wear a UK size 7 shoe, and my shoes fit perfectly (no chance of me pulling a Cinderella stunt #wink wink)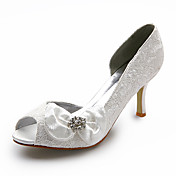 Beautiful, aren't they?
Finding vintage
anything
was the worst headache in the world. Try and Google vintage shoes, accessories, decor or anything really and you will on most occasions be taken to BidorBuy where people are selling their old shoes from the 1960's (which is not vintage, it is used). Or you will end up on someone's website who wants to charge you an arm and a leg for anything that fall under the vintage description (because
vintage
is in demand).
Such situations call for creative and affordable alternatives - and lucky for me, I came across the LightintheBox website (by pure luck or fate, who cares).
I know what you are thinking - "The prices are in dollars and I have to use my credit card to pay". Do not worry, they have secure payment options available, even if you are using your credit card and their prices are really fair, so the dollar bit should not bother you too much.
Go and visit their site for all your wedding requirements, and feel free to compare prices with local suppliers who provide the same or similar products - I am sure you will not be disappointed. Plus, they HAD the exact vintage shoes I walked almost 50km through malls searching for - which is why I will recommend them to anyone and everyone.
Happy shopping!